Browse through our complete list of qualified teachers.
LILIAN VAN DAM
Yoga & Kirtan
Lilian van Dam is a certified 800-hour Jivamukti Yoga teacher and founder of Yogasalon. While living in New York, traveler and international yoga teacher Lilian van Dam profoundly connected with 'hot, hip and holy' Jivamukti Yoga, a rigorous form of vinyasa-yoga which finds its roots in kindness, joy and compassion for all beings.
In 2012 she took the Jivamukti Yoga teacher training, looked upon worldwide as the Gold Standard. One year later she completed the 500-hour Jivamukti Yoga apprenticeship after which she returned to her home-city Amsterdam, ready to share the teachings she so gracefully received from modern gurus, artists and activists Sharon Gannon, David Life, Lady Ruth, Jules Febre and her tireless, inspiring and always loving mentor Tamar Samir. She bows down to their lotus feet and to all of the Jivamukti Yoga teachers who live their lives to uplift the lives of others.
Although the asana flow of her classes can be demanding, the added elements of meditation, Lilian's hands-on assists and a carefully chosen music playlist will make your yoga experience easeful and light. Lilian is a gifted singer and a Bhakti Yoga practitioner. Kirtan, mantra and sound meditation have special emphasis and will make this class different from any yoga class you have taken before…
Nirmalya Dey
Nada Yoga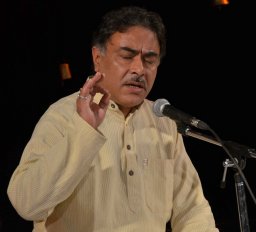 Pandit Nirmalya Dey established his position as performer and teacher of Dhrupad in India and abroad. Inspired by his mother, he started initial Dhrupad training with Prof. Nimaichand Boral, who was a disciple of Ustad Nasir Moinuddin Khan Dagar. From 1988 he has taken advanced training from Ustad Zia Fariduddin Dagar, a celebrated master of Dagar tradition. Nirmalya Dey continued to actively learn from Ustad till he passed away in 2013.
Being one of the distinguished performers of the Dagar tradition, he has taken part in many prestigious festivals and concerts in India and abroad. At the beginning of his musical carrier, Pandit Nirmalya Dey was awarded the first prize at the national music competition organised by All India Radio, in 1979. As recognition in the field of dhrupad and for the excellence of achievement in this field, he was awarded with the senior fellowship by the ministry of Human Resource Department, Government of India.
Pandit Nirmalya Dey is a world renowned teacher and master of Dhrupad, who has taught in University of Delhi and Shriram Bharatiya Kala Kendra (Delhi) as a visiting lecturer. Over the past decades, Nirmalya Dey has participated in numerous Dhrupad festivals and conducted workshops all over the world including European countries and North America. As a long standing master of dhrupad, Pandit Nirmalya Dey has a large number of serious students. When he is not performing he generously devotes himself to teaching at the Dhrupad Gurukul in New Delhi, India.
http://www.nirmalyadhrupad.org/

Mohan Shyam Sharma
Nada Yoga
Pandit Mohan Shyam Sharma is one of the leading Pakhawaj players of India. He learnt the pakhawaj from Pandit Tota Ram Sharma of Mathura. Pandit Mohan Shyam Sharma started his career as an accompanist with the junior Dagar brothers and toured with them, and with Ustad Asad All Khan extensively in India and abroad. He is a much sought-after accompanist for all the most eminent exponents of dhrupad, vocal and instrumental indian classical music. He has accompanied world famous musicians of other styles as well including Pandit Ravi Shankar, Pandit Hari Prasad Chaurasia, and Ustad Amjad All Khan.
The specificity of his playing is marked by his imaginative variations anticipating on the singer's variations while keeping up the required coordination and respecting the mood of the raga. He has a personality of his own and yet blends in the performance.
Pandit Mohan Shyam Sharma has given workshops and solo performances. He has been recorded in solo by India Archive Music Limited. He has also made a name for himself as a very talented teacher in the guru-shishya parampara style of teaching and has many students, Indian and foreigners. He has appeared on a number of CD recordings in India, Switzerland, England, and the USA.
http://mohanshyamsharma.dagarvani.org/

SINTA WULLUR
Nada Yoga
Sinta Wullur studied Classical Piano and Composition Studies at conservatories in Amsterdam and the Hague. She was trained in classical Hindustani vocal music by Pandit Uday Bhawalkar (Dhrupad), and Koustouv Rai (Khayal). Her interest in Javanese / Balinese gamelan took her to compose music for new music venues and she is known as the composer who uses the special tuned chromatic gamelan and who made East West cross fertilization in compositions.
Since 2007 she started projects 'East meets East' instead of 'East meets West', mixing Indian raga with the gamelan structure and techniques. She was commissioned for the composition 'Daya and Ranjit' that was programmed in the Indian Music Festival in Amsterdam in 2008. For the research for this composition she got a grant to study in India for two months in Bangalore. In 2010 the 'Indian – gamelan' music projects resulted in the CD 'Indi Go' in collaboration with the Dutch sarod player Martijn Baaijens. Since 2011 she performed a mixture of Indian classical vocal repertoire together with Indian tabla. In 2012 she set up an ensemble 'Chameleon' that plays her compositions / arrangements on Indian violin, vocals, piano, mbira and percussion. Here are attempts to put the raga in the piano music when the piano is playing together with the Indian violin / vocals.
Since July 2013 she left the Netherlands for travelling to Bali and Calcutta. In Bali she played gamelan gong kebyar and learned other music like gambang and selonding. In Calcutta she studied Dhrupad with Sanchita Chowdury and learned a set of Tagore songs and Khayal harmonium solo with Rupashree Battacharya. For six Tagore songs she made an accompaniment on piano which has western classical music and gamelan elements. In 2014 she gave concerts with with duo Merpati (piano and vocals) in five cities in Java and Bali. Her vocal repertoire consists of Tagore songs, Indian Bhajans, Dhrupad and Khayal songs. A year ago she performed in 'Ubud Writers festival'. For the Sanur festival she made an arrangement of accompaniment of Indian music on Balinese gamelan. For now as a composer; the research in how letting the classical piano sound Indian and how to bridge Indian music and Indonesian gamelan still goes on. After her travels in India she has developed vocal workshops where she focussed on teaching voice training and improvisation techniques based on Indian music, gamelan rhythms and contemporary music.
MARIANNE SVAŠEK
Nada Yoga
Marianne Svašek teaches Indian classical singing at the Rotterdam Conservatory and has been under the tutelage of her late guru Ustad Zia Fariduddin Dagar (1932-2013) for over twenty years. She is an award winning worldwide performer of classical Indian vocal music and one of the few women even in modern times who practices the art of Dhrupad up to a level of mastery. Marianne Svašek will be accompanied by Nathanaël van Zuilen on the Pakhawai. We are beyond happy to have Marianne teach the Yoga of the Voice workshops!
MIRELLA SARASWATI
Vegan Cooking workshops
Mirella Saraswati is a 500-hr Yoga Alliance certified yoga teacher (YTTC and Advanced YTTC with the Sivananda organisation) and has served as a seasonal staff member at the Sivananda Yoga ashram Bahamas for numerous years. In 2011 Mirella studied Ayurvedic nutrition with the Academy of Ayurvedic studies in Amsterdam. here she established the underlying basis of her work and philosophy on nutrition and lifestyle. Mirella has cooked professionally for smaller and bigger groups since 2009. Her experience now includes cooking for retreats , working as a chef for a healthy lunch concept in Amsterdam, leading an ashram kitchen team, and supervising meal preparation and cooking at yoga festivals. She takes pride in creating refreshing and inspirational menus that benefits well-being of all guests.
ANOSHE OVERINGTON
Yogini Circle
Anoshes' spiritual quest began after she took her first yoga class in 1982 in Amsterdam, her birth place. Besides yoga, she studied dance, Tai chi, Bharat Natyam and many other forms of moving meditation. Recently returning to Holland after living in Australia, she also frequently travels to India, Kashmir, Hawaii & Europe to be with her teachers in silent meditation retreats. She experienced the profound effect of silent meditation, which influences her yoga teaching.
Anoshe is a certified (RYT500) vinyasa yoga teacher and teaches in a feminine, creative & loving way. She helps guide safe, correct alignment and directs the exploration between body and mind. In her Yin Yoga classes, she takes people deeply into the present moment using breath, finding the ease in the poses, reconnect with self, restoring energy and relaxation. She offers different meditation techniques to experience the heart of silence.
Anoshe's dynamic Vinyasa classes are both a yoga work-out, as the fluid sequences are breath-initiated, but equally relaxed. She adjusts students with touch to wake up the body awareness.
Anoshe offers private yoga classes for physical, emotional or just going deeper in your practice of yoga. She is also trained in Ericksonian Hypnotherapy, Reiki, Prana-healing, Massage and Psychotherapy.
ANS BERKELAAR
Chi Nei Chang
Since 2008 Ans Berkelaar practices the art of Chi Nei Tsang. In 2012 she was certificated in Mantak Chia's Health resort Tao Garden (Chiangmai).